The Vendettas started as a group in 1962, the nucleus being three schoolmates, Chris, Al og Nick, who were at Colfes Grammar School together. They were very inspired by The Shadows. Carl joined them as lead singer at the beginning of 1963. He was only 13 at the time, but told them at the audition that he was 15. The line-up at theat time was:
Chris Plum (lead guitar)
Al J. Butten (rhythm guitar & vocals)
Nick Weston (bass guitar & vocals)
Willy (surname unknown) drums
In March 1963 Willy was replaced by Tony Day on drums. The line-up then remained unchanged until September 1964.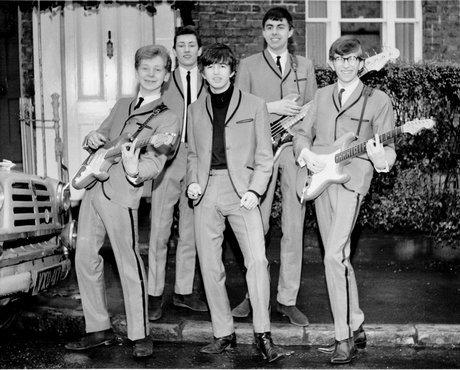 The group played at local youth clubs and at various private parties and engagements. Carl's first job with the group was at a youth club in Charlton, where he sang a handful of Buddy Holly songs. For a while the group were in doubt as to whether they should keep him on, but he started to gain experience and confidence and in the early summer of 1963 the group landed a residency at "The Mitre", a pub in Greenwich, near the Blackwall Tunnel. They played there a number of times a week for several months. It was there that they were spotted by TV-personality and writer Dan Farson. Later that year they became the resident group at "The Ancient Foresters" pub in Bermondsey, and they also started to play at Dan Farson's pub, The Waterman's Arms, on the Isle of Dogs in London's East End. They also played other venues including The South London Beat Show at Lewisham Town Hall on 24 November 1963, where David Bowie appeared as a member of The Konrads.
After becoming the group's manager, Dan Farson decided that in future the group would be called "Karl King & The Vendettas". He thought that two "Ks" in Carl's name would be an eyecatcher. In January and February 1964, he booked the group to play six days a week in "Nights at the Comedy", a variety show which he devised and staged at the The Comedy Theatre in London's West End.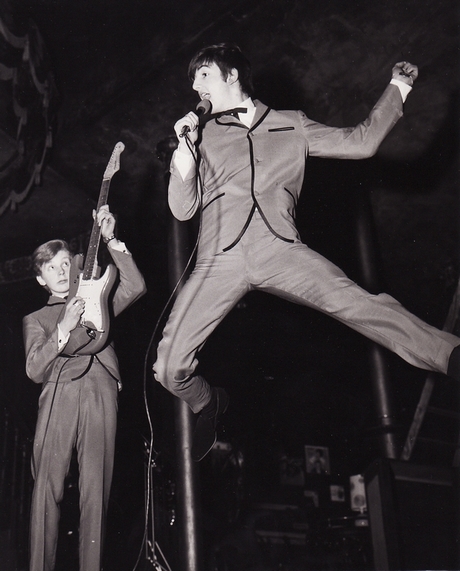 Decca Records expressed interest in signing the group, and in the spring of 1964 they spent several days at the Decca Studios recording tracks for what was intended to be their first single. Four songs were recorded, but Decca and Farson apparently had difficulty in agreeing on the terms of a contract, and negotiations broke down. The four tracks were therefore never released. In June 1964 the group appeared on television and in July they travelled to the West Country on a combined tour and holiday, visiting Dan Farson at his house at Croyde in North Devon.
Carl became increasingly dissatisfied with Farson's inability to provide a recording deal for the group, and sensed that he had begun to lose interest. He also thought that the group lacked musical ambition and decided to leave the Vendettas in September 1964. Carl had been approached by Peter Meaden, who had just lost The Who to Kit Lambert and Chris Stamp, and Meaden offered Carl a management contract. But there was also an offer from The Druids, who had a recording contract with Parlophone. And after several rehearsals with The Druids, Carl became their lead singer at the end of September.
The Druids had also existed since 1962. For a while they had had a lead vocalist called Dave Anthony, but the line-up on their two single releases for Parlophone, and when Carl joined them in the September of 1964, was: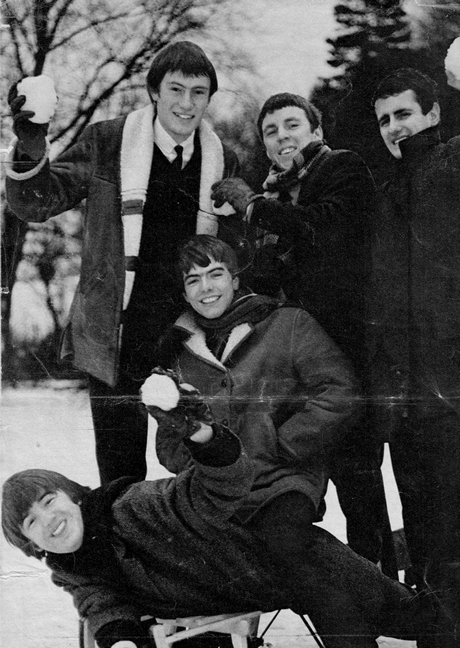 Brian Mixter (lead guitar)
Ken Griffiths (rhythm guitar & vocals)
Gearie Jay Kenworthy (bass guitar & vocals)
Jeff Kane (drums)
When Carl joined the band the repertoire was heavily inspired by many of the groups and singers who recorded for Atlantic Records, for example, Ray Charles, The Coasters, The Drifters and Lavern Baker. Another source of inspiration was Curtis Mayfield and The Impressions. When Carl joined it was agreed that thyey would start to include a good helping of Tamla Motown numbers by, for example, The Miracles, The Temptations, Marvin Gaye and Martha & The Vandellas. These were often recreated in a British rock style, an indication of which can be heard on The Meaning's 1966 version of "I Wanna a Love I Can See" (originally recorded by The Temptations).
But in the spring of 1965, Brian and Jeff started to drop hints that they intended to leave the group and find a reliable job that paid regular money! These hints became a reality in the summer of 1965, and so the three remaining members advertised in the musical press for a lead guitarist and drummer. They received an overwhelming response, and many days of auditions followed, including one with Billy Harrison and Ronnie Milling, who had just parted company with Them and Van Morrison. In the end the choice fell upon 17-year-old Ray Flacke (guitar) and the somewhat older Terry Slade (drums), who had previously played together in various groups. However, the chemistry soon proved to be all wrong, and after just a few months The Druids split up. Gearie joined The Knack and later Simon Dupree & The Big Sound. Ken and Carl tried to put things together as a duo, but nothing really came of their plans, apart from a couple of disappointing jobs.
By the end of January 1966, Carl was broke and in debt. He was offered and accepted a job working for his Dad's boss as a painter. But he had difficulty keeping away from the music scene, and in the spring of that year he joined The Meaning, who were based in Walton-on-Thames. When the keyboard player left the group, shortly after Carl had joined, Carl suggested that they could try out Ken from The Druids on guitar as a replacement. This proved to be a good solution and the group started rehearsals. The repertoire developed into a blend of The Meaning's mixed selection of soul and rock, plus a good deal of numbers that Ken and Carl had played with The Druids.
In March 1966 the line-up was:
Carl King (vocals)
Ken Griffiths (guitar & vocals)
Rod Roach (guitar & vocals)
Phil (bass guitar)
Barry (drums)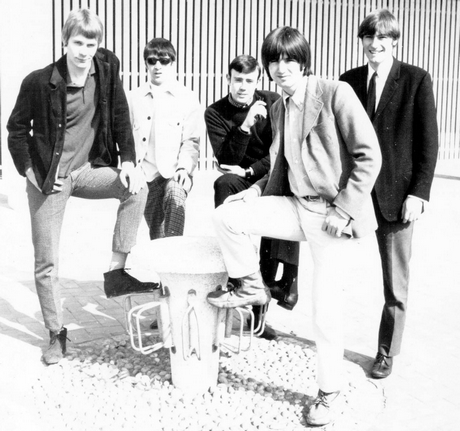 The Meaning were booked to play at a number of weekend shows held by Radio London at the Wimbledon Palais, and in May they paid for a session at Oak Studios in Morden, where they recorded a version of Barbara Lewis' "Hello Stranger" and The Temptations' "I Wanna Love I Can See", which can be heard elsewhere on this website.
However, during the summer of 1966 things started to fall apart. Ken and Carl, together with Ken's guitar, went on a hitch-hiking holiday in Devon and Cornwall, where they played the occasional number here and there. It was an enjoyable trip, but on his return to London, Carl went down with a serious bout of chicken pox and was very ill for several weeks. In the meantime, The Meaning's demo record had begun to circulate and found its way to Des Champ at CBS Records in London via Jack Bradley, Carl's new manager. And after a short audition in the late summer of 1966, CBS offered Carl a recording contract for three single releases.
Carl had some suggestions about recording one of his own songs or a cover version of one of the lesser known songs he had been singing over the past couple of years. But Des Champ was convinced that the first single should include two new songs written by well-established songwriters. He presented Carl with a ballad called "Keep It Coming", written by American Laurence Weiss, and a blues-rock number, "Out of my depth", by the British duo of Barry Martin and Phil Coulter.
There was a great deal of discussion as to which song should be the "A-side", but eventually "Keep It Coming" was chosen (CBS 202407 - released November 1966). In recent years, however, "Out of my depth" has become a minor cult item and has been re-released on several compilation albums.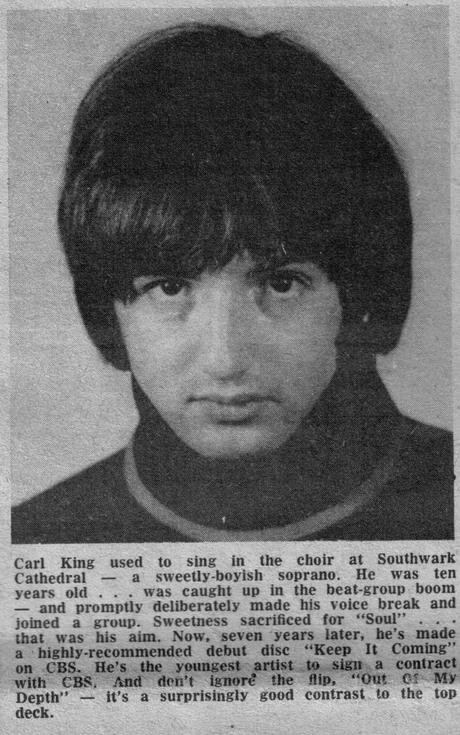 The first single received positive reviews in the record press, but it failed to get many airplays, and Carl was some-what disappointed by what he thought was the record label's lack of promotion. Things did not improve when Carl's magager, Jack Bradley, became ill and had to give up his position. Brian Harvey was brought in as a replacement manager, but unfortunately Carl and Brian never really saw eye to eye.
It was also Des Champ who found the "A-side" for Carl's second single. On the demo received from the American publishers, "You and Me" (written by Farrell, Adams & Kusik) was sung partly in falsetto, somewhat similar to the style of Lou Christie ("Lightnin' Strikes"), but Carl turned it into a driving soul-type number. Des Champ was not keen on recording one of Carl's own songs for the "B-side", so Carl took a couple of albums by The Impressions to the CBS offices in Theobalds Road. Carl's idea was to record a Curtis Mayfield number, but Champ focused on The Impressions' version of Duke Ellington's "Satin Doll", saying that Carl could use it to demonstrate a new aspect of his voice by singing something jazzy.
So single number two was released as: "You and Me"/"Satin Doll" (CBS 202553 - released February 1967).
It was decided that Carl should find a band he could tour with. Through Brian Harvey's associate, Ian Hamilton, Carl was introduced to a number of groups in the Manchester and Liverpool areas, but after some consider-ation it was decided that Carl should form his own band with Ken and Rod from The Meaning as the foundation. However, finding a suitable bass player and drummer turned out to be a bit of a problem. The first bass player, who was asked to join, broke his hand in an accident while rehearsals for the opening jobs were well under way. Finally things started to fall into place when Pete Hollis (formerly bass guitarist with The Cheynes and Johnny Halliday) arrived back in London from France. Several drummers came and went, but finally Pete Phillips joined the band.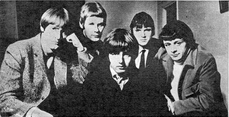 This was the era of Pink Floyd, Jimi Hendrix and The Crazy World of Arthur Brown, and Brian Harvey thought that some kind of original stage idea was needed to make Carl and his band stand out. His idea was that concerts would be combined with a specially produced film, partly featuring Carl and the band, which would be shown on a big screen at the back of the stage. A great deal of money was invested in special equipment, including a lense that could project the film from behind the screen. Film was shot and bought, and the two elements were combined.
However, so much money was spent on this special film equipment that there was nothing left for the renewal of clapped out amplifiers and an inadequate PA system. An old police van was bought as a bandwagon. It may have had an interesting visual effect, but it proved to be highly unsuitable for transporting Carl and the group thousands of miles up and down the country. Another problem was that not much time was left for rehearsals with the final line-up. But Harvey insisted that it was time to go on the road.
Line-up
Carl King (vocals)
Rod Roach (guitar & vocals)
Ken Griffiths (guitar & vocals)
Pete Hollis (bass & vocals)
Pete Phillips (drums)
Brian Harvey linked up with Ian Hamilton in Manchester as booking agent. The band were booked for many jobs, mainly in the North of England, and The Carl King Projection started to tour in February 1967.
Unfortunately, a great many problems appeared right from the start. Many of the venues arranged were not very suitable, and the band received a poor reception. There were constant problems with the projector equipment. The sound equipment, which had been scraped together, also posed problems. The police van broke down on several occasions, leaving the group stranded in the middle of nowhere, and Carl developed a chronic throat ailment, which was not improved by travelling in winter weather in a van where the heater constantly refused to work
Carl's singing career comes to an end
As a result of all the problems and the poor reception the band received, Brian Harvey decided that the band should stop touring in Britain for a while. He therefore started negotiations for a contract in Hamburg, where The Carl King Projection would be booked as a resident band in Star Club/Beatles-style. He thought that the band could in that way knit together as a unit. Carl protested about this plan and said that he didn't think that it was the right solution. Carl's throat problems increased, and finally he visited a specialist who issued a doctor's certificate ordering him to take a month's rest from singing.
Finally, Carl became so tired and disillusioned with the whole project that he announced that he would stop singing altogether without further notice. And that was really the end of Carl's career as a singer until he formed a hobby band together with four musicians in Southern Denmark 32 years later!
In 1998 Carl was invited to a birthday celebration in the village hall in Løjt Kirkeby, the little town in Southern Denmark where Carl has lived since 1986. At the party, Carl sat next to Kiehn Ærensgaard, who had played guitar and bass with various groups through the years. They sat listening to the singer hired to play at the party, who accompanied himself on a variety of electronic devices. Kiehn and Carl agreed that the singer's renditions of a variety of rock and pop classics constituted a crime against music! They also agreed to meet up in the very near future to see whether they couldn't do things just a little better!

This agreement eventually led to the formation of the hobby band "Out of Time". The band played its first gig in April 1999 and has now existed for 13 years.
For more information see www.outoftime.dk
In 2011 Carl was in the process of writing a book about his Dad's experiences as a soldier and prisoner in the Second World War. He had given a number of talks on the subject in his local area and was searching for additional material. But for some reason, his work on this project was constantly interrupted by ideas for songs, and he began working on them together with his son Jesper (Jes King), who is also a songwriter and has played with a number of bands in Denmark, including Measure and Party Animals. They called in Jesper's pal, Søren ("Ziggy") Poulsen, who was the drummer in Party Animals and also writes songs and plays guitar.
This led to Carl's decision to release one of his new songs, "The Starman (A teasing tribute to Bowie", as a single in connection with "Record Store Day" on 21 April 2012, and to follow it with his first album "The Regeneration of Sydenham Sid & The Penge Pioneers", released April 20 2013.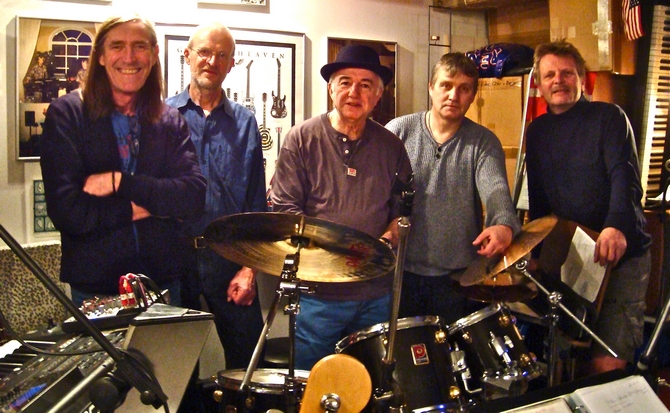 Since the release of the 2013 album, Carl has been working on the formation of a new band for live dates. The finishing touches are now being put to the Carl King Band with the following line up:
Kiehn Ærensgaard (lead guitar)
John B Lassen (keyboards, guitar, vocal)
Peter Thuesen (bass)
Kaj Bonde (drums)
Excerpts from a rehearsal. Live recording Dec. 2014