April 2012 Carl released the single "The Starman".
It was his first record since 1967.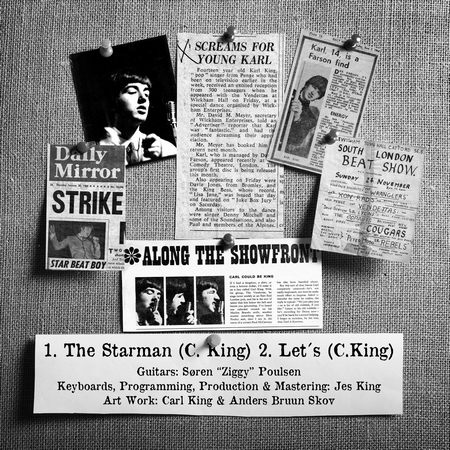 The Starman
The Lyrics
Ha! Ha! Ha! - He! He! He!
We used to talk about this bloke
A lad or two would stand and laugh at him
Some schoolmates thought he was a joke
His hair, his airs, his every whim
We'd see him down at Bromley South
Outside the Wimpy looking oh so cool!
In leather jerkin, fag in mouth
And one boy said, "Well, I just pity the fool!"
Ha! Ha! Ha!
Young Jonesy said that he was going to be a star
But no one else thought he would get very far
He! He! He!
Oh, he was such a pretty thing
When he would blow his sax - and he would try to sing!
The Konrads went - the King Bees came
And Jonesy sang about his Liza Jane
The Manish Boys - The Lower Third
And then the "Jonesy" bit was never heard
He changed his name and suddenly
There was this "Bowie" - new identity!
The laughing gnome - The London boys
They didn't make a lot of noise!
Ha! Ha! Ha!
Young Jonesy knew that he was going to be a star
But no one else thought he would get very far
He! He! He!
Oh, he was such a pretty thing
When he would blow his sax - and he would try to sing!
Then came a spaceman's oddity
And stardust fell on Dave quite seriously
The starman changed himself again
From Ziggy to a lad insane

Now it was fame and glam and glory
The changeling's story was all hunky-dory
And so he made it all come true
Just like old Jonesy always knew he'd do!
Ha! Ha! Ha!
Look at him now the big celebrity!
A star of stage and screen and MTV
He played the part so gracefully!
Who's laughing now at you and me?
He's sixty-five today and I'll be sixty-three
I wonder if he still remembers me?
The kid they thought was gonna be a star
Who quit the scene and watched the starman from afar
Ha! Ha! Ha! He! He! He!
Ha! Ha! Ha! He! He! He!
(Copyright by Carl King 2012)
You can buy the CD'en at:

Stardust Café, Klostergade 58, Aarhus
Badstue Rock, Badstuegade 17, Aarhus
Sound Station, Gl. Kongevej, Frederiksberg C
Moby Disc, Skt Knuds Kirkestræde 2A, Odense
Vinylen, Møllergade 34, Svendborg
Hupfeld, Hadsundvej 3-5, Vejgaard, Aalborg
Or write to:
A teasing tribute to Bowie
'The Starman' single was an appetizer for Carl King's first album, 'The Regeneration of Sydenham Sid & The Penge Pioneers', which was released April 2013.
The single will be released on 21 April 2012 in connection with "Record Store Day 2012" as a special limited edition.
Carl King grew up in the same area of South East London as David Bowie. And for a short time in the early mid-60s they were rivals on the local music scene
Bowie and Carl King were on the same bill several times in 1963-64. Just imagine, on one occasion, June 5 1964, Bowie and his band (Davie Jones & The King Bees) were the supporting group for Karl King & The Vendettas at Wickham Hall.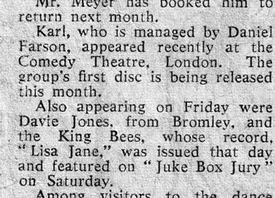 Beckenham & Penge Advertiser, 11.6.1964
A tribute to Bowie
"The Starman" is a teasing tribute to David Bowie. Carl knew several boys who went to school with David, and some of them often talked about the fact that they thought he was self-centred and rather strange. Even at this stage, David flirted with a somewhat bisexual image, and that kind of thing did not go unpunished in the Bromley area in 1963-64! After 1964 there was a long period where they rarely met.
But one late afternoon in November 1966, Carl met David quite by chance in London's West End, more precisely at "The George Inn" in Charing Cross Road.
Carl recalls: "If I hadn't met David that day, my life would have certainly turned out completely differently. David was sitting at the same table as a charming and attractive Danish girl from the town of Haderslev. She was working at the nearby book-shop, Foyles, and knew David's girlfriend. David and I said hello to each other, and I sat down at their table for a chat. After a while, David left and I sat there talking for a long time to the Danish girl. And that was it! She turned my life upside down!"
"In the end it meant that I chose to give up my career as a singer. The girl and I got married the following summer. We never had very much money, so we agreed that we would give each other a 45" single as a wedding present. She gave me "All You Need is Love" by The Beatles, and I gave her "Love You Till Tuesday" by David Bowie on the Deram label. At that time we never imagined for one moment that David would become a world-famous star."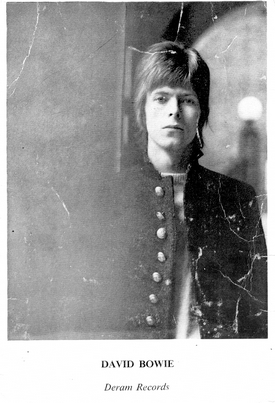 Bowie 1966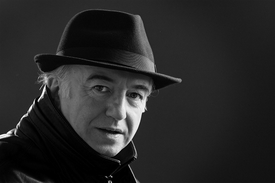 Carl King 2012